A New Endangered Species - Family Farms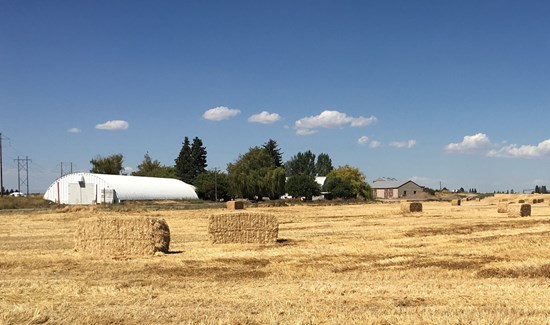 Because of Donald Trump and his Republican senate followers, the family farm could become an endangered species.

Donald Trump's policies have created a perfect storm that is threatening to sink family farms throughout Idaho and the United States.
Donald Trump's failed negotiation strategy led to a 35-day partial government shutdown earlier this year, and his failing negotiation strategy with China could lead to a 35-month crop price shutdown.
The US is having its worst farm crisis since the 1980s, with farm profits cut almost in half since in 2018 compared to 2011. Also, farm debt is rising as farmers need to mortgage the farm.
And Idaho Senators Risch and Crapo are refusing to stand up for Idaho farmers! Of course, neither Risch nor Crapo are on the agriculture committee, while Iowa has TWO senators on the agriculture committee. It's long past time for Risch and Crapo to stop ignoring agriculture, Idaho's largest and most important industry!
As the US Senator from Idaho, I will obtain seats on BOTH the Agriculture Committee and the Energy & Natural Resources Committee so that I can help these vital Idaho industries.
Republicans like Senators Jim Risch and Mike Crapo have abandoned Idaho family farmers and are blindly following Trump's disastrous policies.
1. Trump's Trade War with China
Trump is a horrible negotiator! He usually antagonizes an opponent unnecessarily. China has become so aggravated that in August 2019 it placed a ban on all agricultural products from the United States.
In the recent past, China purchased about 60% of US soybeans. Soybean farmers will now need to grow other crops instead. But prices for other crops, such as wheat and corn, are already low. So when China stops importing US soybeans, that further depresses the prices of a wide range of other crops.
2. Huge Farms Suck Up Trade War Assistance Payments
There has been over $25 billion authorized for trade war assistance for farmers hurt by Trump's trade war with China, but more than half of this money went to the largest 10% of farms. In fact, more than 80 farms received over $500,000, and one farm in Missouri received almost $3 million.
Adequate trade war payments are not reaching family farmers, and even if they were, these payments do not come close to replacing the lost income to farmers from Trump's bumbling trade war with China.
3. Trump NAFTA (USMCA) Does Not Help Idaho Agriculture

The replacement for NAFTA, the so-called USMCA (or Trump NAFTA) does not help family farms.
Under Trump NAFTA for agriculture, there would be only a few minor tweaks that mostly offset each other. The US should export more dairy products to Canada, but Canada should also be able to export more dairy products to the United States.
Canada was given additional access to the US sugar market, so sugar beet farmers in Idaho will be hurt by this provision of Trump NAFTA.
In fact, the United States International Trade Commission projected that Trump NAFTA might help US agriculture by .18 of one percent--less than 1/5 of one percent! That equates to only an estimated 1,700 additional agricultural jobs NATIONWIDE.
Since Idaho MIGHT only be able to pick up 20-50 additional agricultural jobs from Trump NAFTA, that won't offset the harm to Idaho's sugar beet industry.
Rather than helping Idaho agriculture, Trump NAFTA is a Trojan horse for Big Pharma, forcing Canada and Mexico to increase patents for biologic drugs to 10 additional years on top of the already lengthy 20-year regular drug patents. Idaho farm families need medical care and pay a lot for it, and the increased drug prices that Trump NAFTA will cause are not worth the supposed .18 of one percent increase for agriculture.
4. Trump's Ethanol Waivers Favor Big Oil and Cripple Multiple Crop Prices
The Trump administration issued 85 ethanol waivers as of September 2019.
These ethanol waivers were issued to oil refineries, exempting the oil refineries from requirements to use ethanol (made largely from corn) in the gasoline they produce.
These 85 ethanol waivers under Trump compare to only 10 waivers issued during all of President Obama's administration. The 85 Trump ethanol waivers combine for a whopping 4 billion gallon reduction in ethanol production.

Ethanol is a renewable, domestic resource that helps reduce America's dependence on foreign oil. Ethanol is good for America and good for American farmers.

In August 2019, Republican Senator Charles Grassley of Iowa said Trump's administration "screwed" the American farmers with these ethanol waivers.

Why aren't Idaho senators Risch and Crapo standing up to Trump like Senator Grassley is???

Remember, what hurts the corn sector will also hurt other farm crop prices. With lower demand for corn because of these Trump ethanol waivers, corn farmers will need to instead plant wheat, barley, or other crops, increasing the supply of these crops and driving down prices.

For more information, please read:
https://ncga.com/news-and-resources/news-stories/article/2019/09/state-corn-grower-leaders-to-trump-uphold-commitment-to-farmers-and-rfs

https://www.desmoinesregister.com/story/news/politics/2019/08/16/grassley-says-epa-screwed-farmers-biofuels-exemptions/2033813001/
https://www.politico.com/story/2019/06/24/trump-trade-farmers-loans-1547826

https://www.reuters.com/article/us-usa-ethanol-grassley/republican-iowa-senator-says-trump-epa-screwed-us-with-biofuel-waivers-idUSKCN1V61TW
https://www.apnews.com/7881b72df9aa41c28900acba09558e5e
https://www.nass.usda.gov/Statistics_by_State/Idaho/About_Us/index.php
https://www.usitc.gov/publications/332/pub4889.pdf
https://www.mcclatchydc.com/latest-news/article228416529.html